Sustainability
As a renewable resource the fish industry is dependent on environmentally responsible and enforceable management measures in both national and international waters. VISLANDIA recognizes that responsible and sustainable fisheries are of paramount importance for the future of the wild fish resource. We never knowingly purchase fish which has been caught, landed or farmed illegally and deal only with suppliers who operate in an open and responsible manner.
As MSC CoC and ASC CoC certified company, we make efforts to investigate and ensure the legality of our supply chain.
Marine Stewardship Council (MSC)


The MSC is an international non-profit organization works with fisheries scientists and seafood companies. Their vision is for the world's oceans to be teeming with life - today, tomorrow and for generations to come. The two main ways the MSC regulates sustainable seafood is by setting standards for certified fisheries and ecolabeling.

Aquaculture Stewardship Council (ASC)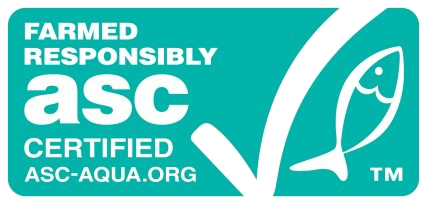 The ASC is an independent non-profit organization that establishes protocol on farmed seafood while ensuring aquaculture. The ASC provides sustainable and responsible aquaculture producers with stringent certification and labelling scheme guaranteeing to consumers that the seafood they are purchasing is sustainable for the environment, and socially responsible.